First Student Conference on EA Debts Related Theses
First Student Conference on EA Debts Related Theses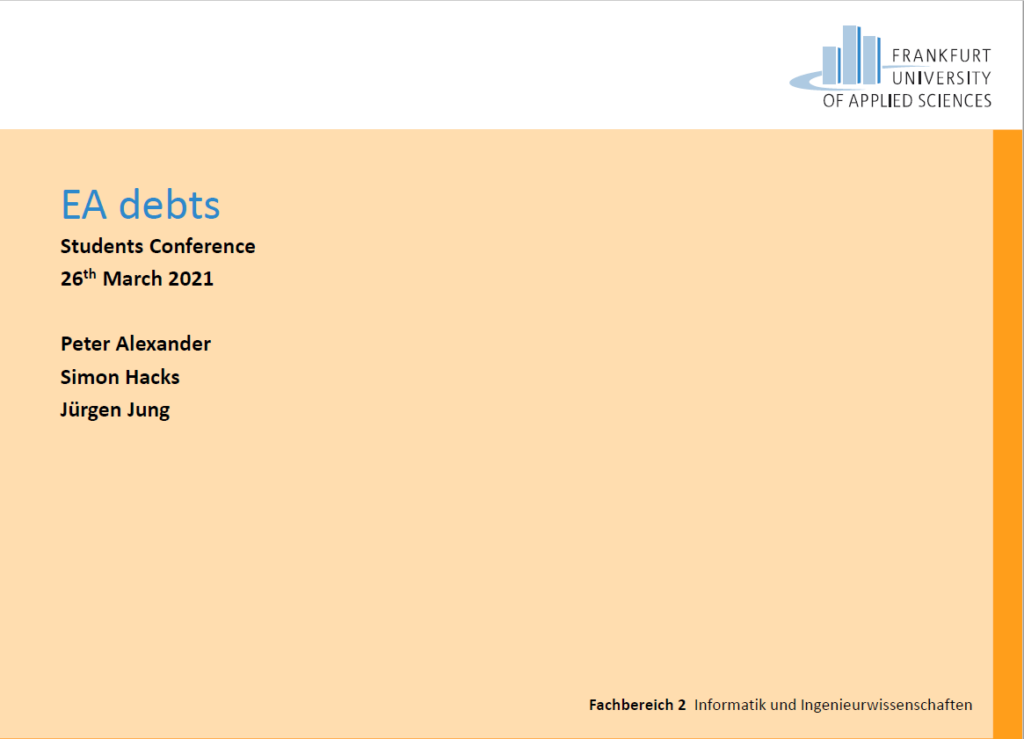 On Friday March 26 2021, the first student conference on theses related to EA Debts took place. In total, four students from the Frankfurt University of Applied Sciences, RWTH Aachen University, and KTH Royal Institute of Technology presented their actual status of their theses.
The conference was thought to foster the exchange between the students from the different organizations and inform interested stakeholders from industry. In total, we recognized more than 15 different participants, leading to a succesfull event.
To kick of the event, we envited Erik Proper from Luxembourg Institute of Science and Technology (LIST), to provide his view on Enterprise Architecture, its management, and its models. He gave an exciting talk, which was much appreciated by the students and the present practitioners.
Afterwards, the students got around 15 minutes each to present their actual status of their theses and 15 more minutes to answer questions or raise themselves question that they would like to discuss. After each presentation, a lively discussion arose and the students used the chance to gather feedback from others than their supervisors.
The event was concluded by an open discussion on the topic of EA Debts itself and a brainstorming how the students can benefit from each others work. Moreover, we concluded to unite the different repositories for EA Smells to provide a single point of contact. Finally, all students acknowledged the usefulness of the conference and agreed to present their final results at the second student conference that we plan to organize by the end of September or beginning of October.
We thank all participants for their contribution and look forward to the next event.
Peter, Simon, Jürgen
Impressions from the Event